Fossil Hill Native Plant Restoration Site
Project Background
South Slope of Fossil Hill at the Sutherland Entrance to Shell Ridge
Concern over the spread of increasingly monocultural stands of Black Mustard in the Sutherland Entrance area led a number of members of the Walnut Creek Open Space Foundation in years past to attempt to eradicate the those large stands of Brassica nigra (black mustard) through a mowing regime at initial flowering in mid-spring. These efforts showed mixed results, and many plants remained. (Note: Black mustard is a different and more aggressive species than the mustard celebrated at venues such as the Napa Mustard Festival).
In the Spring of 2012, we decided to reduce our coverage goals and increase our repeat applications of eradication techniques, which includes a combination of mowing, weed whacking and hand pulling at multiple times during the growing season. While we have found from experience that 2 years of 100% suppression of seed production will essentially reduce to 0 the populations of many exotic thistles (including Star Thistle) and annual grasses, the jury is still out on Mustard seeds. We feel confidant that we met that goal in the 2012 and 2013 seasons for mustards. Unfortunately, we have found many seedlings in seasons since then. We plan to continue our efforts to prevent any plants from going to seed for yet another season.
Our Efforts in the Current Season
In conjunction with our efforts at eradication of invasive exotics, we are planting native plants that are local to the surrounding fields and hills. We do not want to create a vacuum for some other invasive non-native to thrive, and we also want to provide flowers to beneficial insects that may have previously depended on mustards. To that end, we have planted over 2000 California Poppies so far this year, as well as close to 5000 other plants including the native grasses Stipa pulchra, Koelaria macrantha, Poa secunda, Melica californica, Elymus glaucus, Elymus multisetus, and Bromus carinatus. We have also planted numerous flowering plants including Grindelia camporum (flowers later in the season), Asclpepias fascicularis (a milkweed that the Monarch Butterfly is dependent on), Packera brewerii, Solidago velutina, Monardella villosa, Sidalcea malvaflora, and Aristolochia californica, the sole larval food plant for the Pipevine Swallowtail Butterfly. We are also experimenting with a few annuals, but they are difficult to maintain if there are also numerous exotic annual germinating among them.
Many of you have noticed the 750' of hoses stretched out up the hill. We are fortunate and grateful to the City Staff of Shell Ridge Open Space to allow us to use city water to supplement the erratic rains. Since we start our plants in August and September, we do not know what the rainy season will bring. Several initial waterings and one or two decent rains are sufficient to get these native plants established. We feel confidant that we are close to that goal for this year.
Volunteering with this project
This project is mostly run by our Saturday Morning Volunteer Group, which meets most every other Saturday throughout the year. Visit our
Upcoming events page
to see this year's schedule. We will be now spending our time doing weeding and preparation for next year's planting sites, and watching our new plants grow and flower. If you would like to give back to the Open Space we all know and love, please contact the project leader Phil Johnson at
PhilJ@wcosf.org
, or meet us here on a Saturday morning.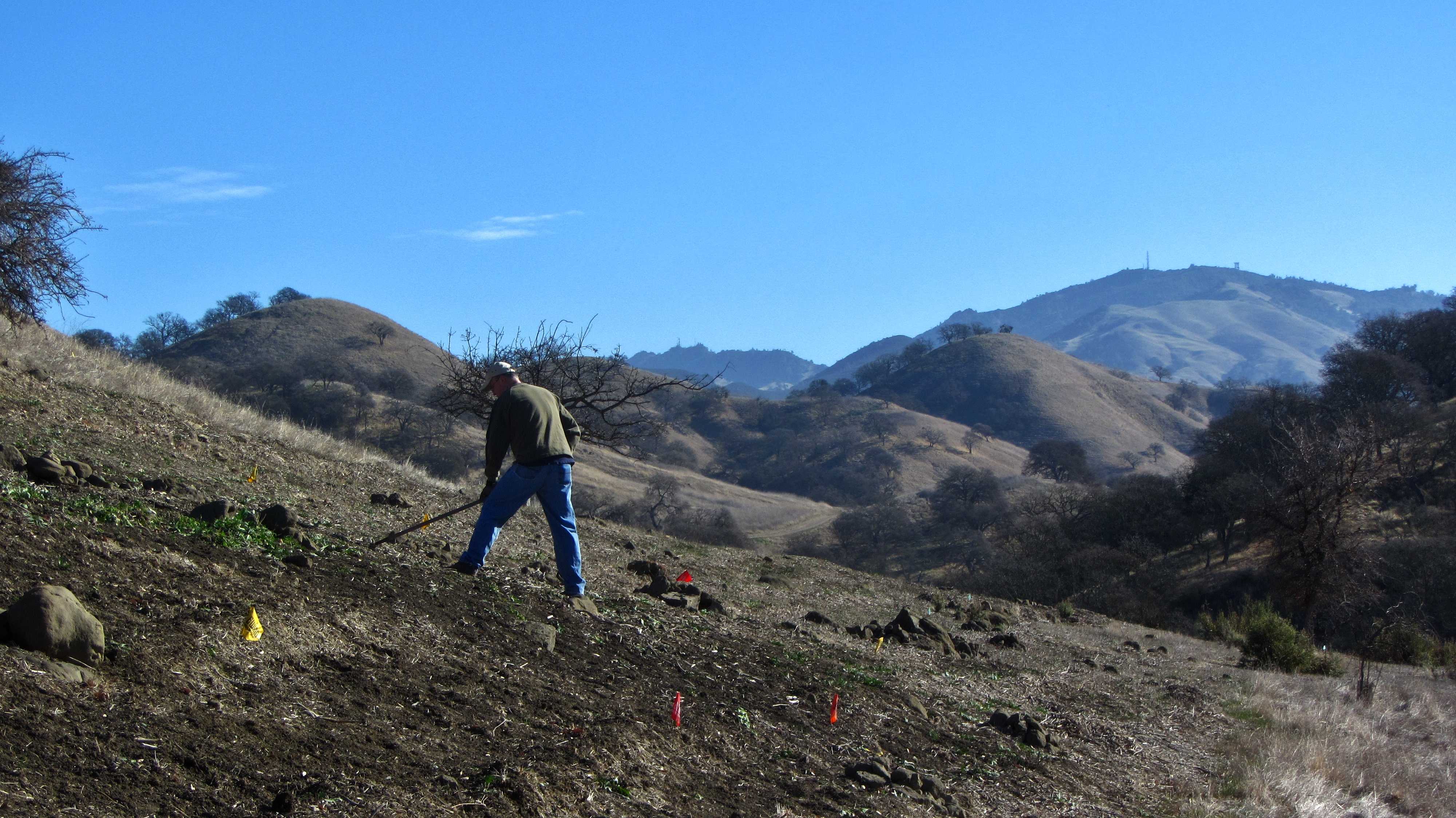 Our volunteers get treated to the most beautiful views!
Beautiful Ithuriel Spear growing in the restoration area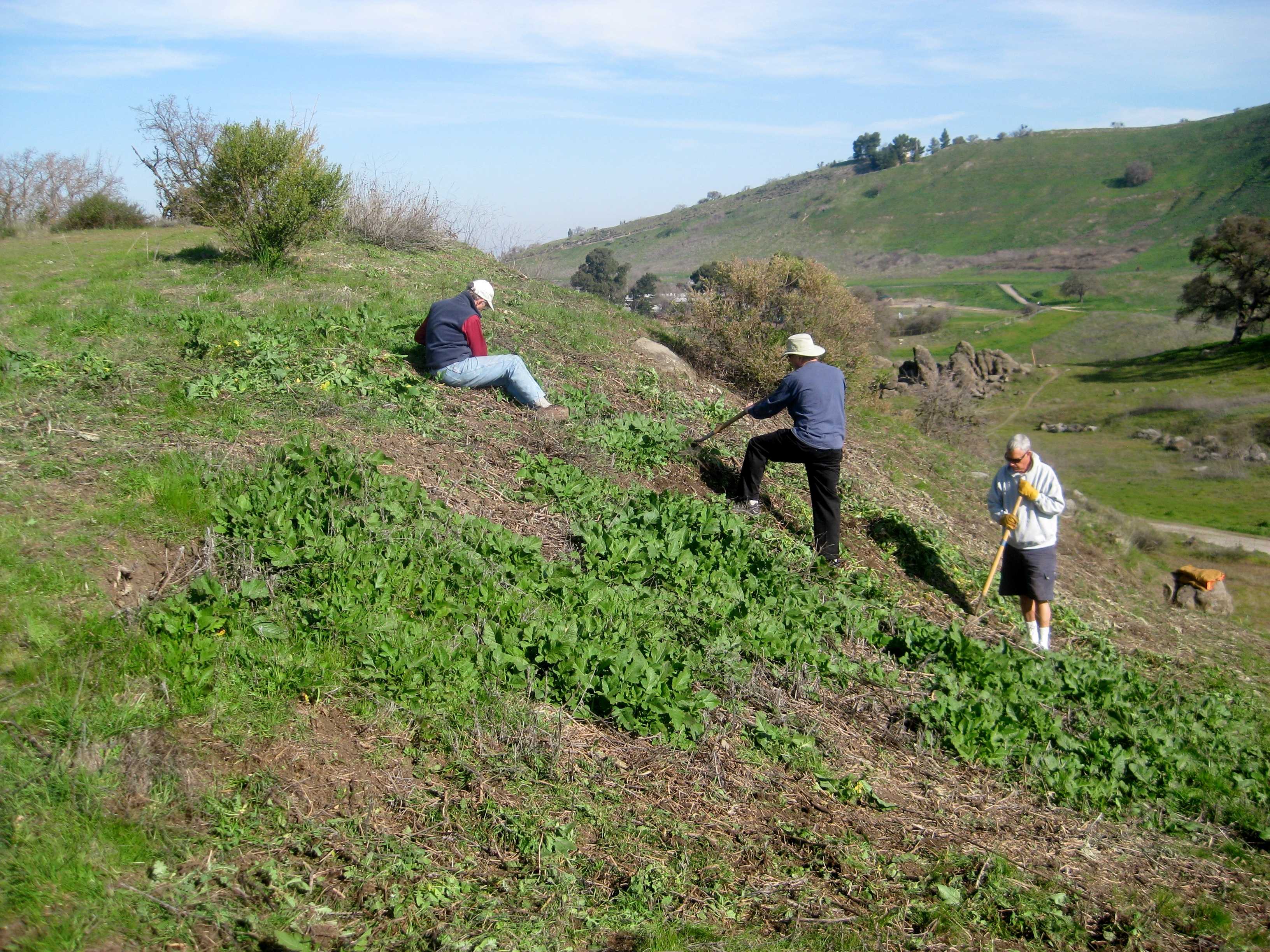 Volunteers in the quarry near Sutherland Entrance
Phil Johnson